see School website
Elhadj Diouf Foundation in brief
The focus of our foundation's work is on the areas of encounter and perspectives with the aim of encouraging young people to reflect intercultural exchange to reflect on real living conditions, different cultures and living spaces (eponym Elhadj Diouf: "Whoever reaches the youth, achieves a lot!"). In addition, especially the active creation of alternatives to the flight from one's homeland plays a structural role. The foundation is engaged "on the bridge" between Senegal and Germany in the fields of education, medicine, environment and sports. Initiated projects in Senegal / Germany contain in each case as principle a concept of the intended independence on site after 3-5 years.
Foundation of the EDF:
June 2018
Foundation Board:
Klaus Becker (politician); Tobias Rusteberg (educator); Mirko Mehde (physician); Christine Prions (educator); Matthias Stach (journalist).
Events:
Foundation Gala 2018 & 2019 ; Virtual Foundation Gala 2020
Special features: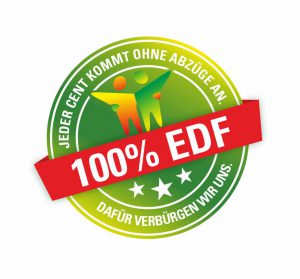 All participants from the circle of EDF are exclusively volunteers; Donations, personally guaranteed by the foundation board, go 100% into the projects; Administrative support by the "parent foundation" Brusch & Ritscher; Within the framework of its projects, based on a perfect infrastructure, EDF works directly with its Senegalese partner foundation AKS; Optimal basis through interaction of the pillars EDF, community and school; Sustainable integration of the youth in Germany and Senegal into EDF; The projects are not aligned FOR Africa, but WITH Africa; Constantly increasing number of long-term and sustainably agreed partnerships with supporting companies (incl. EDF logo on products).
Supporters among others:
Private supporters (e.g. from Germany and Senegal); Corporate supporters (including from Germany and Senegal); Joel Agnigbo (author); Barbara Becker actress, designer); Boris Becker (tennis legend); Bril (musician); Paul and Hansen Hoepner (adventurers); Martin Kind (entrepreneur); Frauke Menger (sand painter); Tommy Reeve (musician); Barbara Rittner (Head of Women's Tennis Germany); Emma Shark (musician); Adel Tawil (musician) and many others.
Homepage:
www.elhadj-diouf-foundation.de/gb/
Important "currently running" projects:
*Completed acquisition of a school site with concrete plans for an "environmental elementary school" in 2022.
*Completed acquisition of a building with subsequent construction of the "Cabinet Médical" infirmary.
*Continuous supply of the infirmary with medical equipment, furniture, etc.
*Support and promotion of regular encounter trips of pupils from Germany and Senegal
Contact: brueckenbauer@elhadj-diouf-foundation.de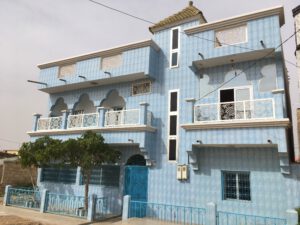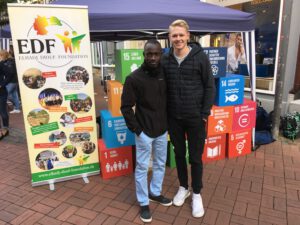 The EDF is a sustainable long-term project
as a supporting component of the "ONE World Model" (cooperation at school, community & foundation levels) promoted by local, national and international bodies.
The "ONE World Model" in numbers (as of March 2022)
10 years of school partnership between both schools (it started with letters)
19 school encounter trips (10 in Germany, 9 in Senegal) and 5 communal meetings (01/2018 in Kaolack, 06/2018 in Osterode, 05/2019 in Münster & Osterode, 09/2019 in Osterode, 02/2020 in Kaolack) could be realized until now. In April 2019 and February 2020 the first EDF trips to Kaolack took place, further planning is underway. First virtual project for pandemic reasons in 2021 and a trainee for sport and educations was here. The next meetings between our schools are planned for 2022.
85 Senegalese were already in Germany in the framework of the encounter trips.
114 Germans were able to get to know the country of hospitality in West Africa.
There have been 8 thematic focal points so far: society, music, sports, working world, mobility, environment, start-up, art. At the municipal level, the two-year project "Municipal Climate Partnerships" (e.g. flood protection, reforestation, energy supply) was running until the end of 2021.
approx. 500 pupils have been enabled to visit our partner schools so far.
14 times the school partnership has been awarded nationally (e.g. Best Project 2014, Project of the Month November 2015) & internationally (e.g. in the field of Sub-Saharan countries), in December 2019 the founders K. Becker and T. Rusteberg received the ONE World Medal in silver.