The idea:
A private school with adjoining pre-school facilities is to be built in a densely populated area. It will be quite different to the existing state schools (several of these schools in Kaolack were visited by EDF representatives in November 2018).
The affinity to sports activities will be an important aspect of the educational focus In addition, a "school garden" will be set up in order that the topic of nature can be covered consciously and with a learner-centred approach. In contrast to most schools in Senegal, our EDF school will be maintained constantly by a "caretaker". Technical facilities using e.g. solar energy are desirable and feasible.
The EDUCATIONAL CONCEPT is based on the principle: "smaller classes, improvement in learning quality, more teachers for fewer pupils". This school will interact constantly with German schools.
The future school must fulfil the following criteria:
• Location in an expanding area with a large proportion of school-age children.
During the trip by the foundation council to Kaolack in April 2019 various plots of land were looked at and then examined in detail. AKS, our partner foundation, assisted us and finally a suitable plot was purchased: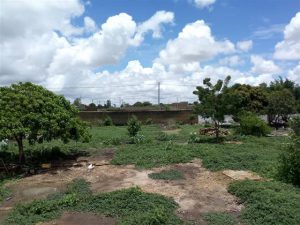 Photos: EDF
Currently preparatory work is already being carried out prior to construction.
To be continued…